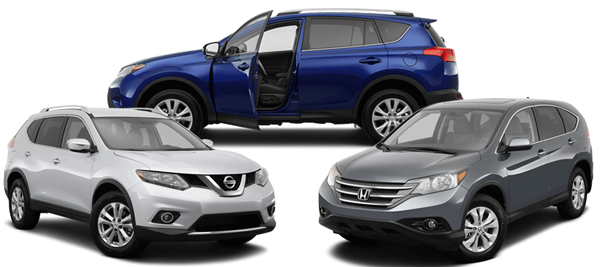 Used SUV Deals Near Sulphur Springs, TX
There's a lot to take into account when you're looking to buy an SUV that meets your needs but is still affordable. You'll want to consider size, passenger capacity, efficiency, safety, and overall value.
If you're budget-conscious and want to get the best deal possible, you might want to consider purchasing a used SUV. When you do research to choose wisely and shop at the right dealership, you'll find that purchasing a used SUV pays off more than you could have ever imagined. Drivers shopping for an SUV in and around Sulphur Springs, TX will find that the used SUV selection at Jay Hodge Chevrolet is unmatched in the area – and all at great prices, too!
Our dealership is stocked with a diverse lineup of top-notch pre-owned SUVs from all of your favorite brands. Our inventory is constantly changing as savvy drivers claim their amazing SUV deals, so whether you're looking for a full-sized SUV or a smaller crossover we're sure to have what you're looking for.
Special Offers on Used SUVs
At Jay Hodge Chevrolet, one of our top goals is to have the best deals for our loyal customers on both new and used vehicles alike. When you're looking to get the best bang for your buck and stretch your dollar as far as it will go, you can't beat purchasing a used SUV from Jay Hodge Chevrolet. Offering our vehicles priced-to-sell is a great priority to us, and we also offer many extra deals and specials to help you save as much as possible.
Take a look at our outstanding selection of used SUVs in a variety of makes and models to find some unbelievable good deals.
Once you've found the SUV that meets all of your wants, needs, and budget, turn to our team of financial experts. They'll be happy to help you through the process of finding an outstanding car loan with low interest and terms you'll be happy with. When you shop with Jay Hodge Chevrolet, you'll be driving your dream SUV home in no time!
Find Your Used SUV in Sulphur Springs, TX
When you're looking for a high-quality used vehicle that offers all of the features, quality, and exceptional value, you'll find exactly what you're looking for at Jay Hodge Chevrolet.
Start your car-buying journey by checking out our inventory online, then, when you're ready to get behind the wheel for yourself, head on over to our conveniently located dealership for a few test drives. We can't wait to help you find the perfect SUV for all of your needs!